Jesper Buch, 16sounds.com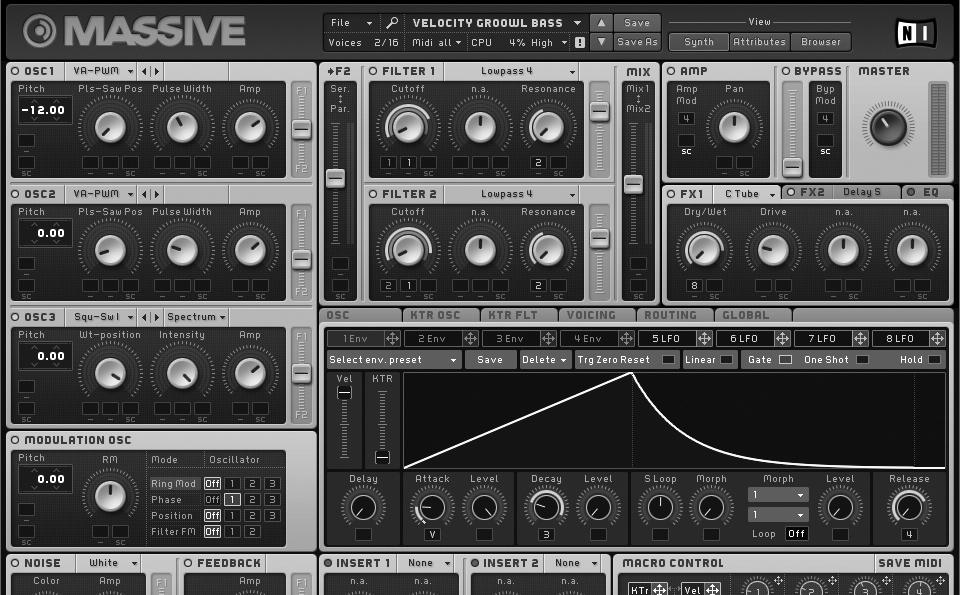 Massive Synth from 2007 is still alive.
Has the release of Massive X killed the old Massive synth?
NI Massive is propably one of the most used software synthesizers over time. Time will tell if Massive X is getting the same icon status as a marked leading synhesizer but Massive is still alive. Massive X will propably not get the same marked share and the competition is harder today with 10+ times more synths to choose from.
Sound quality
The synth can still do detailed sounds that has a vibe with its wavetables, envelops and LFOs.
CPU usage is resonable and it closest competitors are propably Serum and perhaps Spire.
Pros
The 8 Macros and modulation capabilities
Visible envelops that actually show it and not like Massive X´s analog synth aproach with no visible envelops
Easy GUI and easy to program
Good at Bass and Pad sounds
Reasonable CPU usage, even with unison at 2 or more
Lots of 3. party Massive presets
Cons
It is 12 years old
Limited wavetables
Grainy reverb effects
Massive presets
If you own this synth do not throw it away! Check out our Massive presets
Listen to Retro Vibes demo tracks
All demo Tracks are made with our preset package "Retro Vibes" for the Native Instrumets Massive Synth.