|
Jesper Buch
@

16sounds.com
Arturia has just released a new Pigments 3 synth update
There is another new valuable upgrade to Pigments.
This upgrade really has some interesting new useful things and it is free if you own a license to an earlier version.
What's new in this update
Here is a description of the most interesting new features.
Harmonic engine type


New Harmonic engine type for creating interesting sounds in combination with existing engine types.
The new harmonic engine type is best in combination with the utility engine and one of the others.
It is not that interesting on it one but has the harmonic part beside another engine type it can be effective.
We are currently experimenting with sound programming using different mixes of 3 engines for creative sounds.
Utility engine


A new great utility engine.
This engine is made for sound support and has 3 sound sources. Noise 1 and 2 have a length that acts as an envelope decay/sustain/release value.
The utility engine is nice for a noisy attack part of sounds.
New Arturia Pigments 3 Jupiter 8 filter type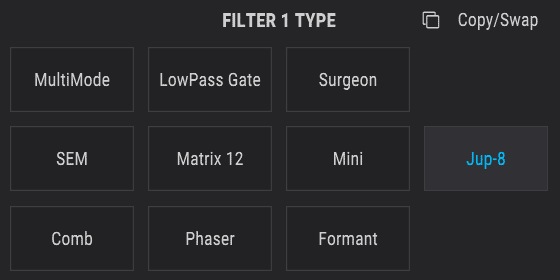 New Arturia Pigments 3 Jupiter 8 filter
New filter type emulation the Roland Jupiter 8 filter used in the Jupiter 8 synth emulation.
The filter is a low pass filter and has 12 or 24 dB modes, Cut off and Resonance. A simple filter modeled after the Roland Jupiter analog 8 filter.
Filter routing
New and more flexible filter routing.
Effects GUI redesign
The effect GUI has been redesigned for the better. Improved organization of way you select effects.
It is still not the best effect GUI in a software synthesizer but it works.
New effects​
There are 4 new effects added.
BL-20 FLanger

One of the better Flanger effects in a synthesizer.
JUN-6 Chorus

The famous analog Chorus emulated from Roland Juno 6 also found in the Juno 6 plugin synth.
PS Delay

A create pitch shifter delay for different creative pitch delay effects.
Multiband Compressor

A 3 Multiband compressor is an unusual synth-effect but this makes it possible to make production-ready sounds.
CPU usage of version 3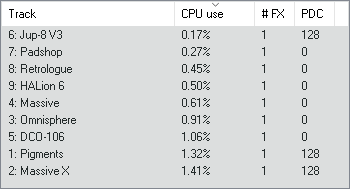 A CPU usage comparison between some synths that Pigmenst competes with.
As the CPU comparison image above shows, Pigments is not the lightest piece of software on this planet but with DAW track freeze, you can use a lot of them. The actual CPU load is of cause based on the presets and what features are in use but it shows a picture.
Pick the smallest gun for the job
A bit of planning in the daw production setup helps if you don' like track freezing.
If you need a Jupiter 8 like analog pad use a Jupiter 8 plugin instead of the Pigments plugin.
It is in general good to know your synthesizers and their strong and weak features.
Pigments vs Omnisphere
Spectrasonics Omnisphere is probably one of the better contesters to Pigments with some of the same features but less CPU usage.
Pigments vs Massive X
Massive X must be the Native Instruments equivalent to Pigments and in many ways a similar synth.
Here is the official version 3 release notes from Arturia
New Engines
Harmonic Engine
Utility Engine
Filters
New Jup-8 Low-Pass Filter
Improved frequency modulation range on filters
Improved filters initialization
New Effects
BL-20 Flanger
Jun-6 Chorus
Multiband
Pitch-Shift Delay
New content
200 New presets
84 New wavetables
97 New samples
71 New noise samples
New effects presets
New tutorials
User interface improvements
New GUI
Improved organization of effects selection
Optimized user workflow
New default setting
Changed default tuning behavior to lock when changing engine type
Added on/off to Unison for Analog and Wavetable engines
New copy/paste effects settings
Improved MPE performance
Improved the interaction to edit modulators
Updated features
Enhanced filter and effects routing
Improved envelopes performance
Added new filter routing options, to allow more possibilities for splitting individual filter outputs to insert effects A & B
Added sample engine snap to zero crossing points
Added sample playback recall to parameters in the edit tab
Added Mono bass and Natural modes to the stereo pan effect
Added new fine tuning mode "Offset" to oscillators 2 and 3 in the analog engine
Added the option to import custom samples in AIFF
Added Release button to activate or deactivate sample in release mode
Added Scale control to invert the functions polarity
Bug fixes:
When MPE is enabled, Macro 1 is now disabled
No more window resizing issue when using the preset browser
No more errors on filters and envelopes when using automations with Logic pro in Big Sur
Sample and hold rise and fall values are now working perfectly when trigger is set to Poly KBD
No more display bugs on Macros in the preset browser when resizing the window
Wavefolding modulation now works perfectly when deactivating unison chord
Fixed an issue that was causing the sidechain amounts to 50 on other modulation sources