|
Jesper Buch
@

16sounds.com
Great delay plugins - If it sounds great it is worth repeating!
Delay effect is a valuable effect in music production and mixing for making instruments sound bigger or get a rhythmic swing. With delay effects, you can make the mix sound bigger with fewer instruments/tracks.
We have round-up some great delays worth mentioning and testing.
How to use delay effect
Delay is an instrument effect with a tail prolonging the sound of instruments it is used on.
Tail effects are good candidates for send effects where multiple instruments go through the same path and processing in parallel with the instrument's direct sound.
It saves plugin-instances, memory, and CPU for other tasks.
Soundtoys Echo boy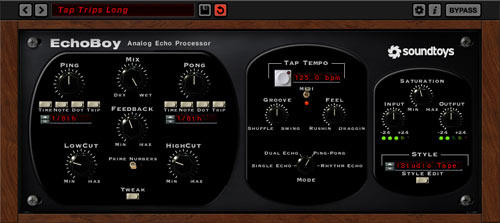 This is still one of the best and deepest delay plugins on the market.
A clean analog-like interface and loads of style-presets make it a very versatile tool. For years it was the top of all but new ones have arrived.
Clean interface
Groove and feel

Great for creating drag or rush for rhythmic tension. Most modern delays have tempo sync but Groove and Feel are great for offsets

Output saturation
Styles

Lots of interesting styles emulating old analog hardware models.
Waves H-Delay

H-Delay for Waves Audio
H-Delay is a top Waves plugin. One of their better tools with an analog sound. Simple to use but with a great character.
Waves H-Delay Highlights
Simplicity

There is only what you see which also might be a downside compared to the other delays in this article

LO-FI button for some dirty grit
Simple and effective modulation
Low and high pass filter

Cutting the lows at 110 Hz and the highs at 5000 Hz keeps it in a good range for delays.

Analog knob for off of 4 analog models adding noise and other analog features.
Valhalla Delay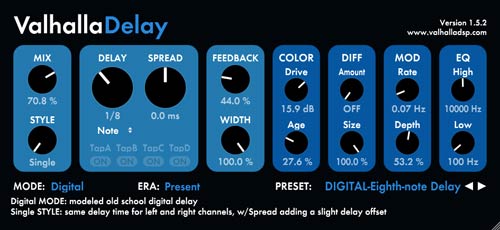 Valhalla Delay is the latest in the line of top VST delay plugins. A deep plugin with high-quality algorithms and new features, very few effects have.
The plugin has a great delay mode feature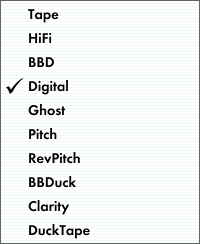 The modes
Each mode changes lots of inaccessible parameters behind the scene for different soundscapes. 
U-HE Colour Copy


Colour Copy, a Bucket Brigade emulation with new features
Colour Copy is inspired by the old bucket-brigade analogue design from 1969 and used a lot through the '70s and into the '80s.


The Bucket Brigade Delay circuit. A series of capacitors built into a chip ideal for guitar pedals.
With 1024 Capacitors it had a warm analogue sound with natural distortion.
The plugin is inspired by that old design with some new features.
Ducking compression

Like Cubase Multitap it has ducking for controlling dynamics

Feedback colouration with filter and saturation
High-quality modulation for creative effects
Cubase MultiTap Delay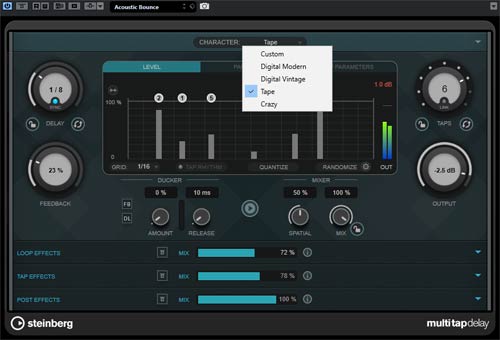 Cubase MultiTap is a new underrated plugin
Cubase 10.5 Pro users have a new great plugin.
This is a very deep piece of software with more features than one first might think. As the name implies it is built around a series of taps.
It also has a module system like the Wavelab Master Rig.
14 modules that can be used to design the sound.


The 14 effect modules is a clever new feature 
Characters like Tape, Vintage, Modern and crazy
Taps with level and pan for each tap
14 Modules for shaping the sound
Ducker for sidechain compression-like effects

Amount and release for control of the ducking
Waves Super Tab

Bread and butter delay
This plugin is an oldie and mostly part of this article for reference. It does simple delay but not with the depth and elegance of the other plugins.
It has very low CPU usage and can still be used.
Some other great software delay effects
Some additional delays worth mentioning and checking out
Melda MTurboDelay

A 40 delay-plugins one solution
A mix of "analog" and digital delay

Audio Damage Dubstation 2

Another bucket-brigade delay like the UH-e Color Copy
LFO and saturation controls

Native Instruments Replika

Simple but flexible 
A 5 models delay
Great for different effects

IK Multimedia Tape Echo

Warm vintage tape from the past
Crazy creative effects
For more creative delays AAS Objeq Delay and Soundtoys PrimatTap are different beasts worth checking out for special effects.
Conclusion
There are probably over 100 delay plugins out there and we have only been checking out what we think is the greatest of them.
Plugin CPU usage and performance
Here is the result of performance testing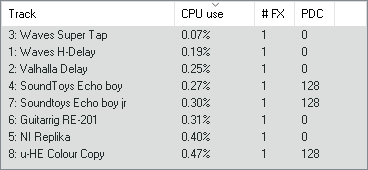 CPU usage comparison chart and plugin delay compensation.
The image above shows the CPU usage and performance of the plugins in percentage and samples.
Waves Super Tap has very low CPU usage which is typically for old plugins made for running on 10+ years old hardware
H-Delay and Valhalla Delay has a nice low CPU usage and needs no compensation in the DAW
Colour Copy is a great plugin but like other U-HE plugins, it is heavier on the CPU than the other plugins. In HQ mode it is even heavier than shown in the comparison chart
A good choice could be buying Valhalla Delay at $50 and H-Delay at $29 for a potent combo that can handle most production and mixing needs.
Other similar articles
For similar articles on different tools check out these: