Vintage Vibes
Native Instruments Massive is still a capable synthesizer for lots of sounds and this expansion package shows its potential for vintage and analog sounds. Great for Synthwave, Retrowave and music from 80´s in general.
Massive presets
The Retro Vibes package is a preset package for Native Instruments Massive synthesizer. It has 80 newly created analog emulation presets for music production and sound  design in difference genres.
SynthWave
RetroWave
Other genres with sounds from the past
Features
80 Massive patches/presets
A PDF file with usagetips. Including using external effects and

optimizing

for CPU usage.
Macros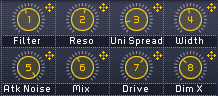 All the Massive retro patches have 8 Macros in action
Stereo width and unison spread
Most of the patches have stereo width and unison spread control for making wide sounds with a reese touch.
Retro Vibes is using all 8 Macros for dynamic playing and automation. The macros are typically ordered in the same way on most of the presets.
Analog Drift
A lot of the patches have analog drift emulating old analog synthesizers. This gives an analog feel without getting in the way of the sounds and playability.