|
Jesper Buch
@

16sounds.com
Updated:
Roland Juno 106
In 1984 Roland released a new six-voice analog synthesizer named Juno 106 as part of the Juno series Roland products. At the time an advanced programmable poly synthesizer easy to program.
In Greek mythology, Juno was a goddess and Jupiter's wife.
This is still an iconic Roland instrument from the 80's like Jupiter 8 and D-50.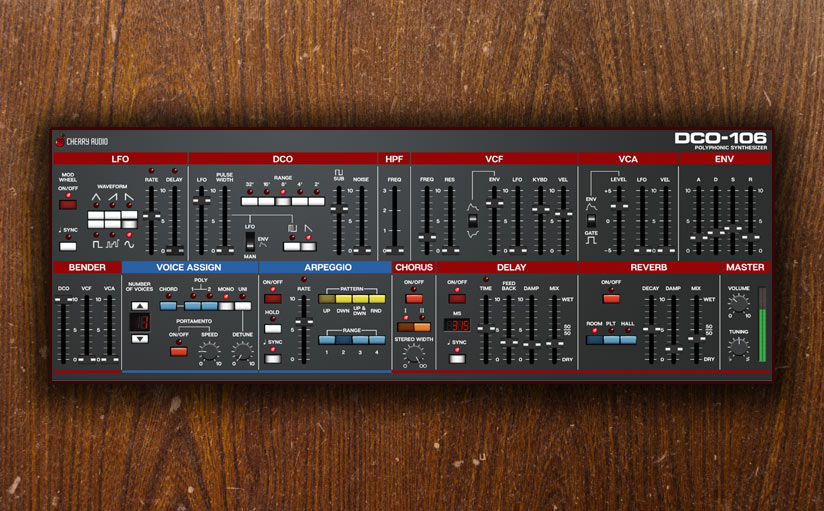 Cherry Audio Juno 106 analog synthesizer model
New synth
Cherry Audio decided to make a model of the original synth with some modern add-ons. 
Like in a lot of other fields it is easier to sell something that people already know and with the number of new soft-synths released rebranding could be a selling point.
Does it sound like the original
When you make a model of a hardware synths users will expect it to sound like the original while most users have never played the original.
in the end, a lot of users do not care or know if it sounds like the original but it has to sound good and it does.
The synth plugin
In modern soft synth terms, this is a mid-range plugin modeled from a famous hardware design. In today's softsynths, it is not an advanced synthesizer but close to the original.
It is built around a digitally controlled oscillator with the usual waveforms, noise, a sub-oscillator, and envelope controlled filter- and amp. The sound is analog but digitally controlled. With the noise generator, it can do simple 80´s drums and percussion.
A synthesizer with a clear design and easy to program with a surprisingly wide range of sounds. A lot easier than the Jupiter 8 and D-50.
Voices
The original unit has up to 6 voices and this plugin has up to 16 but adjustable from 2 to 16 voices.
The voices can be set to Poly, Mono, or Unison with a detune spread for spreading like reese basses. This makes programming big pads with up to 16 keys and thick basses in unison mode easy.
A simple but great arpeggiator
The built-in arpeggiator is simple compared to other synthesizer plugins but still effective in collaboration with the Delay effect for interesting patterns.
Tempo sync
The original did surely not have tempo-synced parameters but this one does. 
The following can be synced to internal or external tempo/host tempo:
LFO
Arpeggiator
Delay effect
The filter
The filter is an important part of the variation in the sounds a synthesizer can produce.
Though it is not a Moog Ladder filter the primary filter is a resonant 24 dB lowpass filter that can oscillate and make divebombs if you turn the resonance to the max. It also has a secondary non-resonant high pass filter for filtering the bottom out when not needed.
The filter can be controlled by the envelope but the synth only has one envelope that the filter and amp can share. An extra envelope would have been nice but then the larger Jupiter 8 is the choice.
MIDI Learn
The synthesizer has an easy GUI midi learn system for setting up your hardware controller to control the plugin.
For each parameter, you can create a control with min, max, cc code, and curve. Min- and max sets the range for the parameter controlled. 

Along with the standard MIDI program change feature, this is great for both studio and live performance.
The synth Effects section
Like other synths, this is saved by the effects. Turn off all effects and you hear the simplicity of the design.
The plugin has 3 effects. The chorus from the original hardware and reverb and delay added by Cherry Audio.
Chorus


The chorus effect
The chorus sounds like the famous Roland chorus that also has been modeled in a few plugins on their own. The chorus effect quickly became an iconic effect with its distinct dual-mode Roland sound.
TAL Sofware and others have made VST plugins of this chorus.
Check out the free TAL-Chorus-LX.
Delay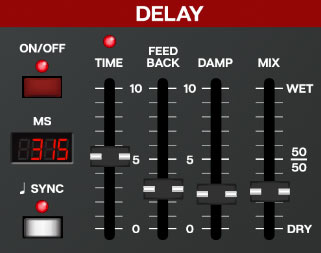 A simple delay effects with 3 parameters and a mix
The original hardware synthesizer did not have a Delay effect but Cherry Audio decided to add one.

Delay parameters:
Tempo synced time

Standalone and host synced to tempo

Feedback
Damper

The delays are lowpass filtered to make it cut less through over time

Mix
Reverb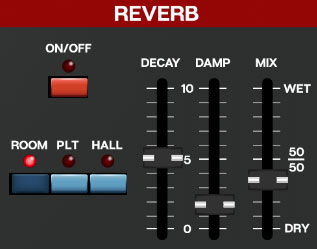 A reverb effect with room, plate and hall types
Performance and CPU Usage
This is not a lightweight plugin but it has zero latency and reacts to midi program change making it useful for live performance. Cherry Audio might have modeled the individual components in the original synthesizer.
Compared to other synths, the CPU usage is in the higher end but it varies with the preset settings.

CPU usage compared to Arturia Pigments, TAL U No,
Omnisphere, and Massive X
Pros and Cons
If you need an analog synth model from the 80´s, this plugin is a fair choice within most user's price range.
Presets and sounds
This synth is good for:
Pads
Roland character bass sounds

A different bass than Moog and DX7
With Number of voices and detune it can do fat basses

Arpeggiated sounds

Combining the arpeggiator and the delay can make interesting patterns

80´s keys
Pros
Stand Alone version
Resizable window

Dynamic and not just in predefined jumps

VST3 support
Zero-latency
Preset browsing via midi program change

This makes it good for live performance use controlled from a hardware unit.

The low price ($25 on sale)

Even lower than Waves plugins
Cons
CPU Usage is a bit high
Amp and filter share the same envelope

This is a design choice but an extra filter-envelope could have been added
What are the alternatives to this synthesizer
Though this is a no-brainer for the price, there are alternatives.
The Roland Cloud version

Don't expect it to use less of your CPU

TubeOhm 106

Not that close to the original sound but still a fine synth

Some free Juno 106 model presets for Native Instruments Reaktor
TAL Software TAL-U-NO-LX Juno 60 emulation

TAL-U-NO-62 is a free version

U-he Diva can sound like this synth
Roland Boutique series hardware JU-06A