free sounds for Prophet v3
Unison basses free presets
A bass package with great basses made for Prophet V3 in its iconic Unison mode for fatness.
The Prophet synth has a unique fatness that really comes out in these free demo presets.
The presets all have the character og the prophet synth
Inconic attack
Lots of low end
The fullness of the prophet synth
The famous Prophet Unison sound
Demo Presets
The demo has 7 unison Bass presets with a unique Prophet character.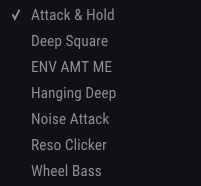 Unison Basses Demo - Preset list