|
Jesper Buch
@

16sounds.com
Drum machines and samplers and how to make beats
An article on How to make beats and working with drum machine and sampler programming, creating beats and patterns for drum layering. How to make beats with 4 drum plugins.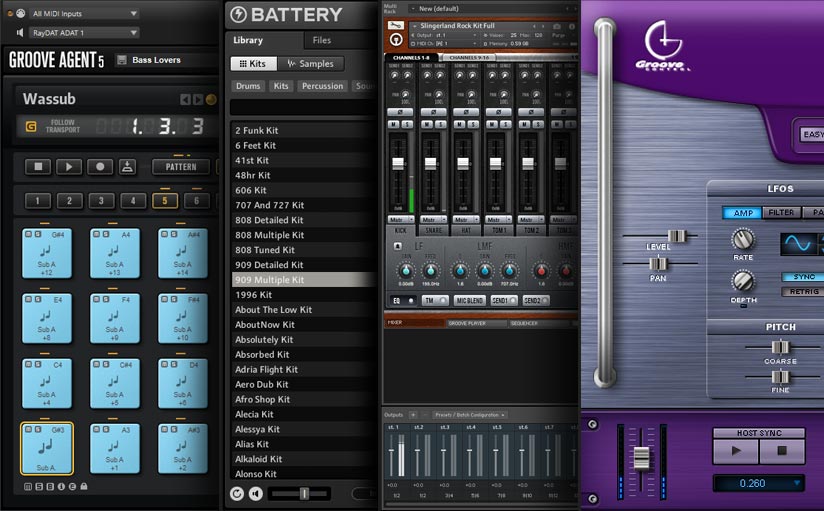 Making beats with drum machine and sampler - beat making and drum patterns with samplers
4 drum sampler plugins for making beats and patterns
Steinberg Groove Agent 5
Native Instruments Battery 4
Kontakt drum presets
Spectrasonics Stylus RMX
Groove Agent
Groove Agent 5 is a Steinberg application of its own with some great outstanding features. It might take some time to fully understand the Steinberg way of doing drum samplers but it is worth it.


Recording you own samples
Groove Agent 5 has a recording window with some nice support features like threshold detection for start and stop. threshold detection and Key Mapping can be used together for fast sampling and mapping of the samples. Some of the advanced features are inherited from Wavelab and Halion 6 recording windows.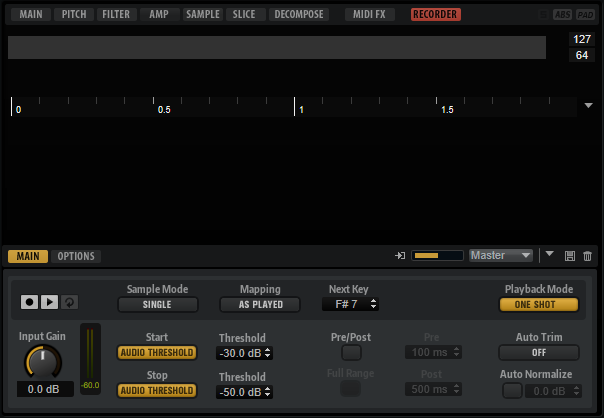 Groove Agents recording window with threshold start and stop. Record split samples fast.


Sample window
The sample window has lots of settings.


Kick with the sample toolbar in the top
Decompose
Decompose is a unique Groove Agent 5 feature that can split a sample in its tonal and not tonal part for remixing them individually. This is a great tool for making percussion out of your samples and instruments.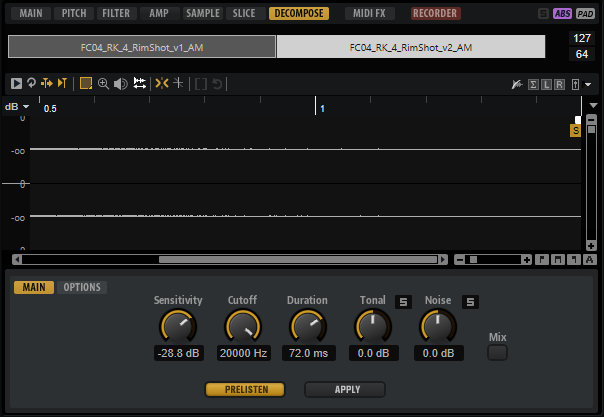 Decompose window for controlling the tonal part of samples
The sample is split into the Tonal and Noise part with a sophisticated algorithm. Decompose is useful for lowering ringing in snares and toms and for creative sound design with other instruments like guitars for attack samples.
Groove Agent inserts effects
Groove Agent 5 has an extensive effect section like a DAW. 4 inserts and 4 sends for each of the 16 mixer outputs. Steinberg has years of experience in developing quality tools.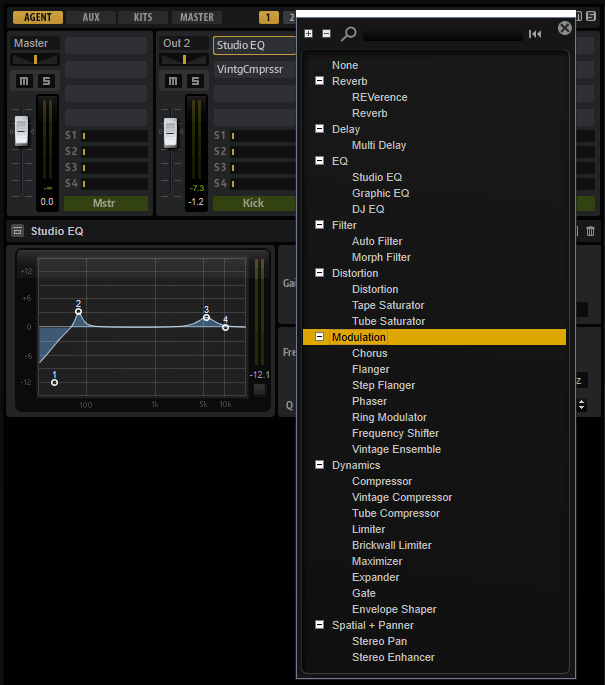 The 4 insert slots on each output bus. The popup shows the full insert effect list.

Groove Agent drum programming
Groove Agent has 2 midi ports. One for standard midi triggering and one for pattern triggering. This gives a full keyboard for key triggering and a full keyboard for pattern triggering.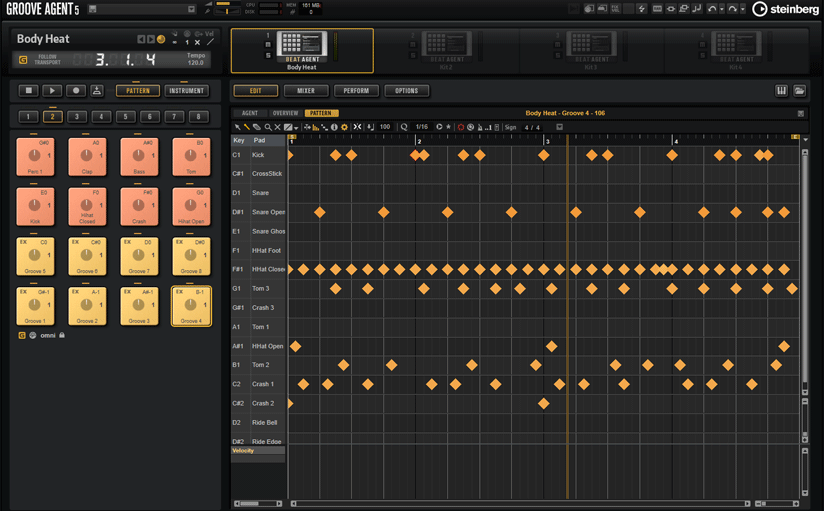 Groove Agent 5 pattern window with a pattern beat
The pattern editor is great for programming, building beats and grooves with the right feel. Paired With a hardware controller with 4 x 4 pads it is a powerful drum solution for jamming and music-making. One can make very detailed beats with a perfect swing for triggering fra a 4 x 4 pads controller live or in the studio.
This drum sampler is worth the price of a license for sure.
Native instruments battery 4
Battery 4 is a cell-based drum sampler. An industry-standard drum sampler. Battery does not have the advanced recording window and Pattern editor like Groove Agent but still a good drum sample triggering plugin. Like all other NI plugins it only has VST2 support and not VST3.


NI Battery 4 cell Window with visual trigger pads


Battery 4 main tab where the over all Volume, pitch and engine is controlled
Battery Effects
Native Instruments Battery has some nice tone-shaping tools like saturation, lo-fi, filter, and compressor.


Battery 4 effects tab where the no tail tone-shaping are controlled
The Saturation and Lo-Fi are great for a dusty older sound. The Lo-Fi effect is a bit crusher with color and noise.
Native Instruments Kontakt Drums
Kontakt is an advanced script-based instrument creation suit. Kontakt works well for drums and sound design. Its interface customization makes it good for creative developers without programming the application from the ground up.
Lots of developers make drums instruments for Kontakt.
The developer Native Instruments are known for Studio Drummer and Abbey Road 60's Drummer.
Other 3. party Kontakt drums developers:
Drum Drops
Get Good Drums
The Loop Loft
Stylus RMX
Stylus RMX is a unique beat making player for playing transformed REX files. It time stretches without actually time stretching the wave files. Only the time between the samples are synced to tempo.
Stylus RMX Effects


Like Trillian and Omnisphere Stylus has lots of build-in effects.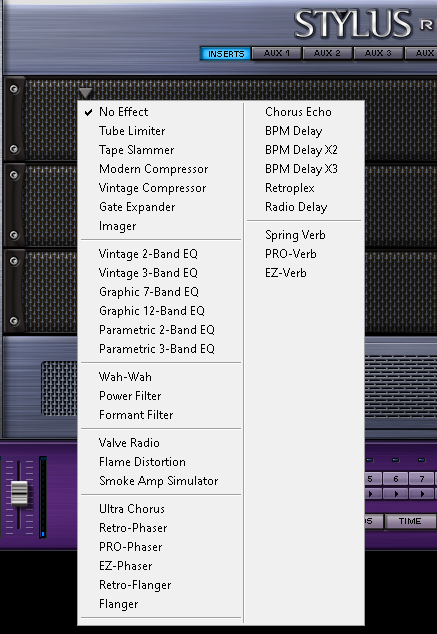 Stylus RMX effects dropdown showing the effects contained in Stylus RMX
Maschine MK2 as drum plugin controller
Native Instruments Maschine hardware is great for playing with Groove Agents patterns where the drum pads velocity sensitivity is ignored.
The Maschine pads have the same layout as Groove Agent pads and makes it a good controller for Groove Agent.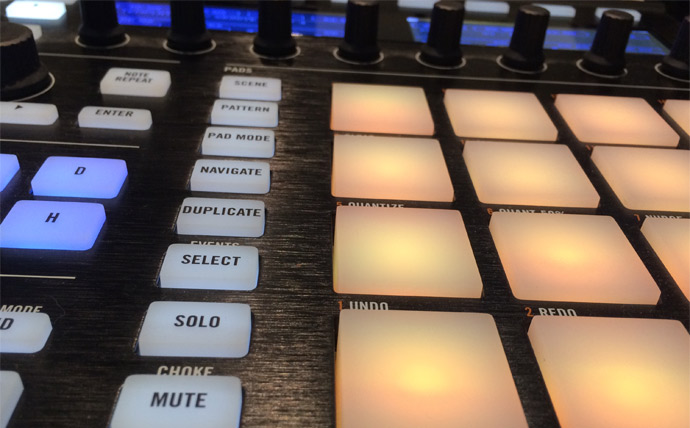 Native Instruments Maschine MK2 with its 4 x4 velocity sensitive drum pads 
to be continued...