Best Pratice organizing your DAW projects for better and faster workflow
Working with Audio- and Music Production in mordern Digital Audio Workstation software is not a simple task. It often contains lots of resoures.
Keeping track of all the small parts is essential part of organizing a project.
This article will focus on:
Naming objects properly

Name your Projects, Tracks and Files properly.

Grouping and Routing


Create Groups
Color your track types consistently
Organizing the Media Pool
The Media Pool quickly becomes a mess if all files are saved directly in the "Audio" folder.
It is good pratice to create folders that matches your instrument categories/groups.
Folders could be
Drums
Vocals
Bass
Guitars
Keys
Pads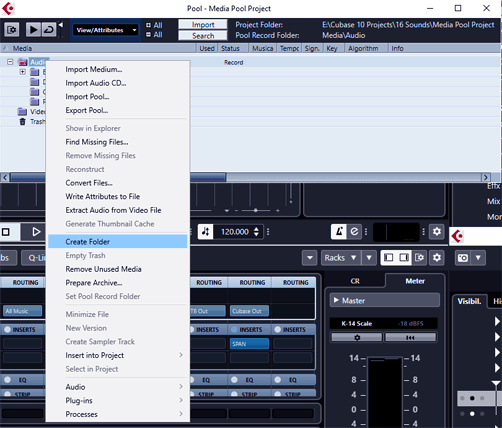 Media Organizing the Media Pool - Create Folder.
Best Pratice Organization - One folder One Project
Organizing startes when you create a new project.
Media Pool has a "Remove Unused Audio Files" for tidying up your Media Pool.
A badly organised project with more than one Cubase Project in the same folder is a disaster waiting to happen. 
"Remove Unused Audio Files" will remove all files not used in current project. If the Media Pool has audio files for another project they will be removed.
Best Pratice Organization- Naming, Routing and Grouping
Creating a good master section is valuable in mixing. It gives an overview and some insert points in the audio streams and simplify the big picture. Using Group channels is a way to control submixed tracks at a higher level. 
Proper Naming is an important part of juggling a lot of resources. It is good pratice to keep you project so any mixengineer can mix it by identifying the resoources by names.
Important parts of Best Pratice Organization 
Routing through insert points
Proper group names
A good production has lots of stages that get you the final result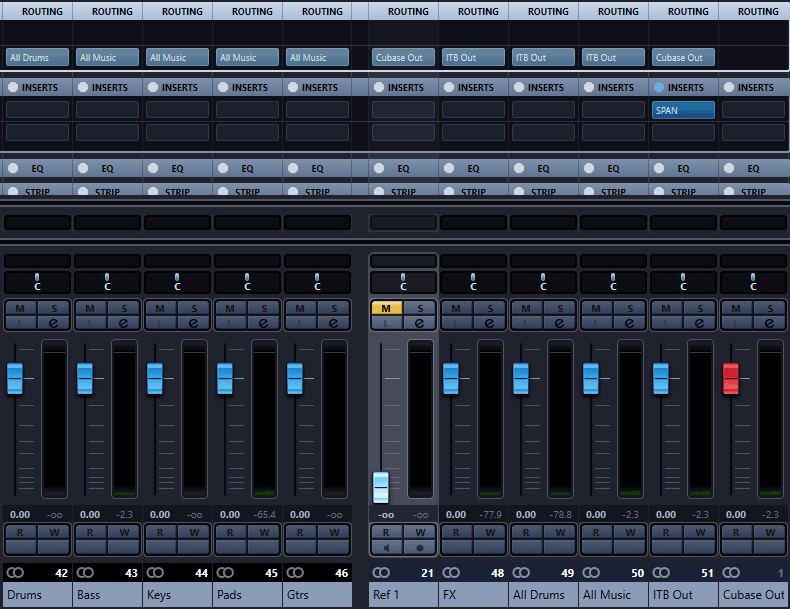 Project Organization - Cubase Mix Console with Master Groups and main out. This is a Master Section and it is ready for inserting plugin.
Drum Groups
Drums and percussion are an important part of a lot of music productions. Layering drums from different plugins and audio files is a powerfull way to build good drum grooves with impact.
Breaking down the audio streams into groups and insert points is a good way to hide already handled details in the mix process.
Examples of Drum Groups
Hihat
Kick
Snare
Tom
Loop

A Group Channel for loops from audio files and drum plugins like Spectrasonics Stylus RMX

Parallel Compression

A Group Channel with eq and compressor for squasning the drums for a little parallel mixin.
You can pluralize you names, like "Hihats", "Snares", if you like but be consistent.
All the Drum Groups are routed to a master Drum Group for final control and Drum Master compression.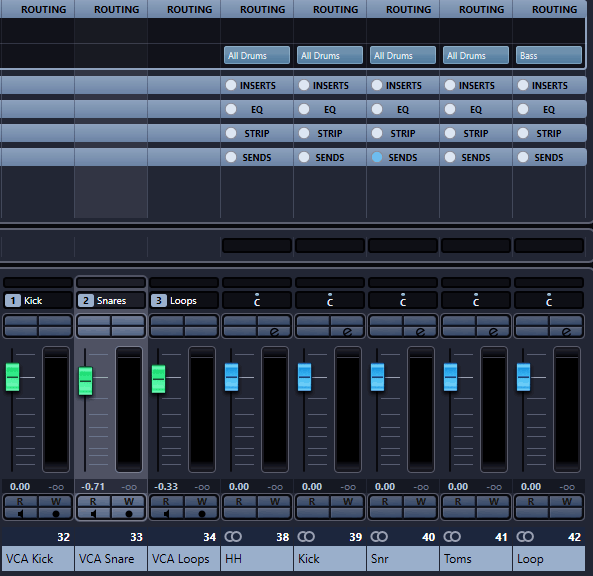 Cubase Mix Console with VCA Tracks and Groups for Drums.
Mixdown
When it comes to rendering audio for use in your project and not only final mixing the names of the tracks matters.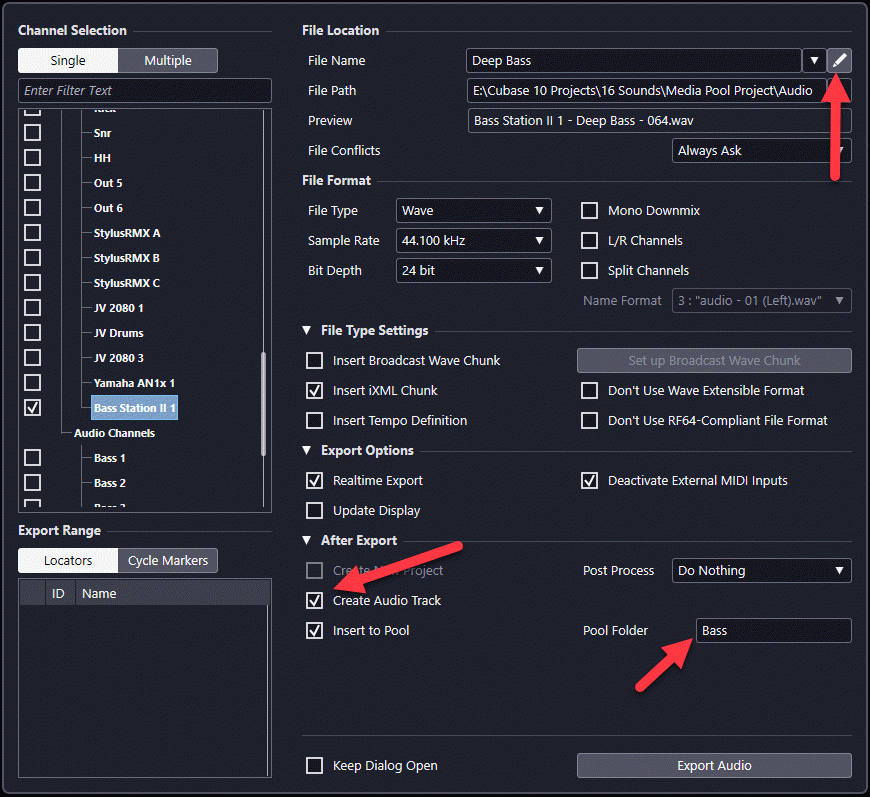 Cubase MixDown window with red arrows point to important features.
The red arrows in the screenshot above is "Naming Scheme button, "Create Audio Track", "Pool Folder" and "Insert to pool".
"Create Audio track" adds a new Audio Track with the rendered audio at the bottom of the Project window.
Always use "Pool Folder" to render the audio directly to the correct folder i Media Pool.
Naming audio files in MixDown
Proper naming of render in place- and MixDown files are an important part og best practice organization.
Using the Naming Scheme Window to generate generic names is a good idea.
Here is a Scheme with Channel Name, Name and Channel number for unique trackable naming.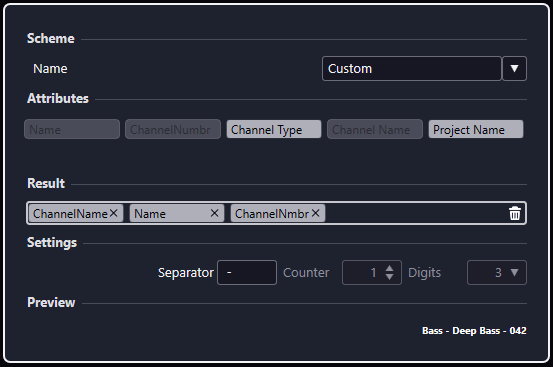 Audio export naming scheme for generic file naming in Cubase.
Organizing your Pro Tools Session
Chris Lord Alge has a video on organizing your Pro Tools Sessions. It has generic valuable tips not only for Pro Tools like using color schemes.
Organizing Pro Tools Sessions
Chris Lord Alge explains his Pro Tools organizing tips.